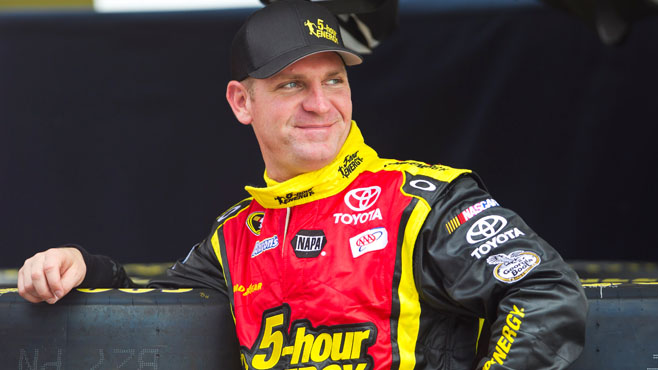 Well the entertainment value is there. There isn't anything fair, you know fair isn't even in our NASCAR handbook really. You check fairness at the gate when you come into these racetracks. So is it fair? Probably not. There is a lot of racing that goes into getting into the chase, a whole seasons worth. To decide it all and a championship in one race seems pretty wild, but hey other sports do it every year.
I hope to be there come that final race. It's one of those things like in the Super Bowl where a dropped ball in the beginning and it was a safety right off the bat and they (Denver Broncos) never really did recover. That's the one thing you take a chance on something as simple as a flat tire or a loose wheel could take one of the guys out of the championship on the first lap of the race. I think you'll have years that are crazy exciting and I think you'll have years that aren't very exciting at all. That is just the gamble you take in this type of situation.
Bowyer brings up some points that many NASCAR fans have expressed since NASCAR first introduced the chase. When the chase format was first rolled out fans were upset because they felt as though it discredited what a driver accomplished over the first 26 races. Let's say a driver was dominant in the first 26 races and then in the final 10 races they were average, in that scenario they most likely would not win a championship. Jeff Gordon is the driver most pointed to in this argument. Since the start of the chase Gordon has not won a championship. However, under the previous format Gordon would have won two championships.
The 2014 format takes it one step further. As Bowyer pointed out, an entire season can be lost on a flat tire of the final race at Homestead. On the flip side of that some fans love the new format because of the drama and excitement that it could bring. The thought of four drivers running in the top-five in the final laps with a championship on the line is intoxicating to some fans. Is that the kind of action that we are going to see come November? I guess we will just have to wait and see
Who is Clint Boyer to complain? I mean when is the last time this guy won a race yet alone a NASCAR championship. If Boyer has an issue with what he considers fair he knows where the pavement leads.