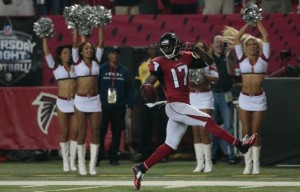 Was it me or did we see a Thursday night massacre? The Atlanta Falcons pounced all over the Tampa Bay Buccaneers in what will probably be the most dominating performance we will see all season long. From a fantasy football standpoint people are overly joyed with Matt Ryan and Julio Jones(i know i am). Being a Falcon fan you got to watch a record get broken,a record for most points in a half get matched(ironically against the same team it happened before) and an offensive performance that was simply flawless.
Now call me crazy but i believe Devin Hester one of the greatest "Prime Time" performers of all time, Under the bright lights he shines brighter than any star in the league.  And Hester shined as bright as ever on Thursday. Hester was just over thrown on a deep ball in the first quarter but you could tell he was going to have a huge role in the rout of the Bucs.  An end around by Hester put the Falcons up 28-0 but was nothing compared to the next time Hester touched the pigskin.  A punt return by Hester in the 2nd quarter put Atlanta up 35-0 and moved him past Deion Sanders for most returns for TD's in NFL history. On the sideline you can hear coach Mike Smith tell him " That's why your here". I was kind of shocked tho. Tampa Bay head coach Lovie Smith drafted Hester in Chicago and watched him change game outcomes with multiple kick/punt returns…but he still had his team kick to him.
Atlanta's offense was responsible for responsible for 6 total touchdowns. The defense chipped in a pick 6 and Hester's record-breaking punt return tied together one of the most dominating performances in NFL history. Expect Atl to be a huge threat going forward,and once Roddy White is 100% this offense could set records also. I almost forgot about the Steven Jackson sighting also. S Jax ran like he had found the fountain of youth,punishing defenders and breaking tackles. The NFC south and the rest of the NFL was served notice on Thursday.