By: Seminole Buccaneer, Published May 5, 2015 8:32 PM EST
The 2015 NFL draft is over. The Tampa Bay Buccaneers are off the clock, but are they off the hook? Lovie Smith & Jason Licht did what everyone expected and drafted Jameis Winston with the first overall pick. That was a no-brainer. The question is, did they get the next two picks right?
The Buccaneers needed to address many needs this offseason but none more than the quarterback position & the offensive line. The Bucs took quarterback Jameis Winston with the first overall pick so check one of the biggest need boxes off. Then L&L (Lovie Smith and Jason Licht) turned their attention to the other need, offensive line. Let's take a closer look at both of the players the Bucs selected: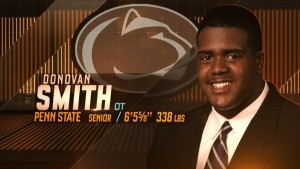 Donovan Smith, Tackle, Penn St.
This pick, in my opinion, is a bit of a reach in the top of the 2nd round. That said, the Buccaneers are in desperate need of offensive linemen. Here's a look at Donovan Smith's strengths & weaknesses.
STRENGTHS:
Plays with good functional strength. Good leg strength and can drive defender off the spot.
Adequate footwork in run game to go with powerful base.
Solid pad level and bend in pass protection, his initial sets are above average.
Has good pace on play-side zone plays, which will benefit him if he's moved inside.
WEAKNESSES:
Athleticism lacking to play tackle at the NFL level.
Struggles to change direction against pass rushers.
Can recognize stunts but is extremely slow to react.
Struggles to recover when beaten.
Inferior hand usage in run and pass blocking. Plays with hands too low and lacks overall hand strength, ineffective punch in pass protection.
Poor balance and overall strike effectiveness on second level.
The way I see it, Donovan is a pick for need not the best player available. I see him getting a shot at one of the tackle positions but ultimately ending up being a guard. Pick grade: C+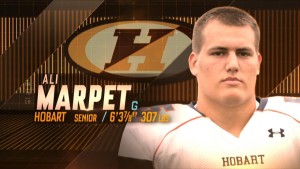 Ali Marpet, Guard, Hobart.
The Buccaneers traded back into the end of the 2nd round to select the division 3 guard from Hobart. Many fans thought this was odd in that Marpet would have still been on the board when the team picked in the 3rd round. Marpet shined at the senior bowl game against division 1 pro prospects and that's apparently what led the Bucs to fall in love with him. I think this pick is also a bit of a stretch. Marpet will fight for one of the two starting guard spots but could also get a look at the center position. Let's look at Ali Marpet's strengths & weaknesses.
STRENGTHS:
Good to great foot quickness with ability to reach and hook opponents. Quick to fire out of stance and into defender.
Has a knack to be the low man using hips and arm extension to lock out and control his man.
Has leg drive to push his man backward and finish.
Good to excellent with hand placement in run and pass.
Plays with advanced technique for a Division III player.
WEAKNESSES:
Played against inferior athletic competition in division 3 and wasn't challenged enough.
Get's caught leaning and lunging.
Let's inferior athletes get to his edge. Average with redirect.
Has short legs.
Needs to add more thickness through entire body.
Ali Marpet could very well be the steal of the draft if he lives up to the hype he created at the senior bowl. I see Marpet as cracking the starting lineup by the end of preseason but as the center not the guard position. Draft grade: B+
These two players have been put in a position of huge pressure. They both have to make the starting lineup and help solidify an offensive line that was, very offensive last year. Anything less than both of them turning into longterm starters for the Bucs will be a disappointment. Something the fans of this team can't handle anymore of.