In 2012 Ray Lewis announced his retirement. It would be his "One last ride." The Ravens went on to win the Super Bowl and Lewis left his career with a second ring.
It's 2015 and Steve Smith Sr has decided to hang up the cleats after this season. This will be his "one last ride." His fellow teammates have spoken and they all want him to end his career with a ring. After all that is the one thing he has never accomplished. He has had quite the career, it's amazingly amazing if that's possible to say. So let's take a look back at his career. The good, the bad…one question looms….will he be inducted into the Hall of Fame?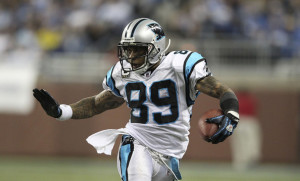 Drafted by the Carolina Panthers in 2001, Steve Smith heard nothing but criticism. "He's too small, not big enough to be a successful NFL receiver." Much criticism was thrown his way and nobody realized he would end up being a great WR who would catch mostly anything literally thrown his way. During his rookie year he was the special teams return specialist. He led the NFL in return yards, gaining 1,994 yards. This made him fourth behind all NFL players…Priest Holmes, Marshall Faulk, and Derrick Mason were the only players ahead of him. The coolest thing about his rookie campaign was that the very first return he made was for a touchdown!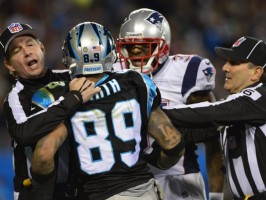 In 2002 he became a starting wide receiver while continuing to be a big part of the return game. Notably, this year he entered an altercation with a teammate fracturing the guys orbital lobe which led to his arrest and jail time. The Panthers suspended him for one game. In 2003 Smith helped guide the Panthers to their very first NFC championship title, he earned 88 receptions for 1,110 yards and 7 touchdowns. They ended up going to the Super Bowl and losing to New England 32-29. He caught four passes for 80 yards and a touchdown that game. In 2004 he broke his leg during the opening game against Green Bay and missed pretty much the year.
2005 was arguably the best year of his career thus far. Coming back from an injury only two words can describe the greatness of that season….
"Triple Crown". He led the NFL with 1,563 receiving yards, 103 receptions, and 12 touchdowns. If that wasn't great enough, he returned 27 punts for 286 yards. His 10.6 yards/return was the second highest of his career. The Panthers ended up in the NFC championship game against the Seahawks due to impressive post season play by Smith. I calculated a total of 27 catches for 335 yards in that three game playoff run, he recorded a franchise record during the divisional round against the Bears recording 12 catches for 218 yards. During the 2006 season he dealt with a few injuries but fought through them finishing that year with 83 catches for 1,186 yards and 8 touchdowns. He was invited to his 2nd pro bowl in a row and 3rd overall up to this point. In 2007, he played in 15 games earning 87 catches, 1,002 receiving yards and 7 touchdowns. It's important to note that he caught passes from four different quarterbacks that year.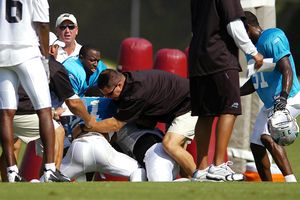 In 2008 Steve got himself into another altercation with a teammate, this time Ken Lucas during training camp. He broke his nose and later received a two game suspension. During the first preseason game against the Colts, he suffered a severe concussion going up for a pass. He played the rest of the game but did not go to Philadelphia the next week. After serving his suspension Smith presented the ball from his first touchdown to ken Lucas on the sideline. Later that year he was still voted into the pro bowl gaining 78 passes for 1,421 receiving yards and 6 touchdowns, leading the NFL in receiving yards per game. During his 2009 season he broke his forearm on week 16. He recorded 982 yards on 65 receptions and 7 touchdowns. The man was only 18 yards short of a 5th straight 1,000 yard receiving season. Smith was placed on injured reserve following the injury, and in 2010 Smith broke his arm again while playing flag football.
Everybody has a bad season. Steve had his worst in 2010. He still managed to lead the team in receptions and yards received with 46 catches for 554 yards. It seems his low numbers were most likely due to the team having then rookie quarterback Jimmy Clausen. The team had a measly 2 wins that season and many fans speculated that he wanted the team to trade him away. In 2011 Smith surpassed the 1,000-yard receiving mark and he became the 35th player in NFL history to reach the 10,000-yard receiving mark. He went on his way to his fifth pro bowl. The follow-up season 2012, Smith finished the year recording 73 receptions for 1,174 yards and four touchdowns. In 2013 despite a PCL sprain, Steve got his 800th reception. The Panthers released him on March 13, 2014.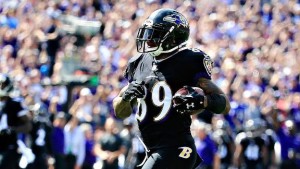 On March 14, 2014 the next day after being released, he signed a 3 year deal with the Baltimore Ravens. He said that if he plays his former team "put your goggles on cause there's going to be blood and guts everywhere." That season the Ravens hosted the Panthers and he ended with 7 catches for 139 yards and two touchdowns, as the Ravens destroyed Carolina 38-10. He became the oldest player to lead the NFL in receiving yards up to week 4. He finished the year with 79 receptions, 1,065 yards and 6 touchdowns. The Ravens played the Steelers in the playoff wildcard round winning thanks to his 5 receptions for 101 yards. The Ravens lost the divisional round to the Patriots. Smith ranked 54th on the top 100 players list.
On August 10, 2015, Smith announced the upcoming season would be his last. Many fans were upset and many were happy for the man. He is eager to spend his post NFL life with his family. Let's not forget, 15 years in the NFL takes away a lot of time away from family, time that can't be received or brought back. All in all his career has been astonishing to say the least. Will he sign a one year contract with Carolina to retire a Panther? Who knows. Maybe he will retire a Raven. In the end it doesn't matter because players are inducted into the Hall of Fame as themselves not a part of a team. Ultimately it's a decision HE will make. After going through all of his accomplishments thus far I think it's safe to say he will end up in the Hall of Fame eventually. Let's tip our hats to Steve Smith Sr and from his own words….
"Ice up son!"