NASCAR's 2014 season is quickly coming to a close, with only two races left in the chase for the championship. With the door closing on many drivers the competition is getting more and more intense than ever before with the new eliminator playoff system.Eight drivers are battling for the final four eliminator spots at Homestead Miami Speedway for a chance to be the next champion of NASCAR.  Heading to Phoenix no one has been able to clinch their spot quite yet.
The 8 drivers battling for the 4 spots in the championship round are: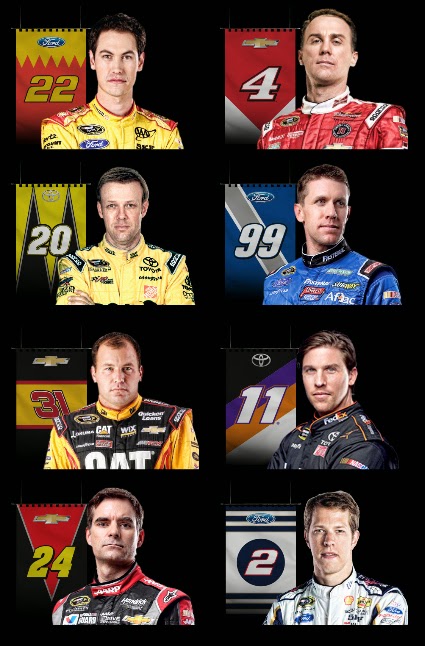 Jeff Gordon the driver of the #24 Drive to End Hunger Chevrolet would have already locked up his place in the Championship round had he been able to seal the deal the past two weeks. At Martinsville he narrowly missed out on the victory when fellow Hendrick Motorsports teammate Dale Earnhardt Jr. passed him late to push him bck to 2nd. Than at Texas Motor Speedway, during the first of two green-white-checkered finish attempts on the front row with teammate Jimmie Johnson, Gordon in the outside lane was racing hard to go for the win when Brad Keselowski tried to dive between them slamming his car into Grdin due to the lack of space cutting down his tire and causing him to spin. Gordon ended up 29th.
After the race ended a big fight ensued on pit road involving Jeff Gordon, Brad Keselowski, Kevin Harvick as well as crew members from Gordons crew as well as members of Kaey Kahnes #5 crew.
Following the altercation they interviewed Gordon as well as Harvick. Gordon when questioned about it replied angrily, " He's a dips#$%, the way he races, I dont know how hes has ever won a championship. I'm just sick and tired of him, and that's why everyone fights him or runs him down. This race was huge for us, and he cost us."
Keslowshki in an ignorant tone told reporters, " I am what I am. I'm not gonna change the way I drive"  Keslowski who is already on probation for a similar incident earlier this year at Charlotte Motor Speedway seems to be making his actions a habit, and isnt making any friends on the track. There seems to be a new spat every single week.
With the drama this past weekend in Texas I expect much more in the closing weekends of the year. When the smoke clears and all is said and done at Quicken Loans Race for Heroes 500 in Phoenix I expect Jeff Gordon to dominate and take the win giving him the clinch and opportunity to Drive for Title Five.