Game 2 is on the board and it's another loss for the Miami Dolphins. If it wasn't preseason I would start to worry. Miami faced another tough defense, much like the ones in their division and again couldn't finish. The modus operandi of the Philbin Era. If it were December or January, Fins fans would have reason to curse, but rejoice it's only August and it doesn't count. How did the Dolphins lose to a team that only had a .489 win % and STILL squeaked into the playoffs last season? Simple, the starters only played two series, proven vets got the night off to look at bubble players, and again didn't get much support from their back ups. Not all is lost though! What hope can you take away from Saturday's game?
The Offense
 Tannehill: Again looked ready to have his best year to date. A fumble early that he recovered and topped off  the drive with a TD. He finished the night 12/15 for 102 yards. (18/22 for 187 yards, 2 TDs, 0 INTs, 81.8% on  completions, and a 126.9 passer rating in 2 games.) Granted, his stats might even out over the course of 4  quarters, but he's looked very sharp and much more decisive. He had a hot hand on his slants and shortbachelor in paradise cast season 1 . He had a deep ball sail over his receivers that probably would have been a touchdown and another,  beautifully placed over the shoulder pass that may have been tipped away. We even saw his speed this game  with a read option run that picked up 11 yards. Other than the over throw he only had one bad read where he  must have misplaced the linebacker coming over the middle of the field. If he can keep the rhythm going, he  might finally break into the t0p 10 qbs this season.
The Running Backs: I may have to save this comment in the back of my head until midseason so fans don't get their hopes up but "Damien Williams has arrived." Lamar Miller only ran the ball 3 times for 5 yards and 2 catches for 38 but his quick 3 yard dump and run for another 33 made up for it. Williams might not have picked up the slack statistically with a lackluster 25 total yards. However he established himself as a redzone threat teams will have to game-plan for. In 3 trips he scored twice (1 yard run and 11 yard catch) and had another would be touchdown as he reached toward the pylon that was ruled a fumble and touchback. He's got to remember, stretch

but don't sacrifice the ball. Whether he's their 3rd down back, or he gives Miller some rest, or comes in situationally, he appears to be ready to do what it takes to help the team win. LaMichael James is also earning his roster spot with 6 carries for 45 yards (7.5 avg.) More importantly he appears to have taken the role of return specialist and made it his own which frees up Landry to stay fresh down the stretch. His first kick return went for 31 yards and he showed just how quick he can be.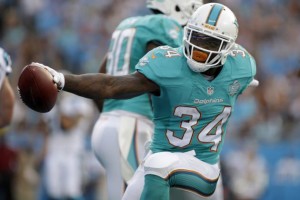 The Wide Receivers: No Parker or Jennings but again Miami found away to spread the ball around. Jarvis Landry again tied for first in receptions(4 for 20 yards) picking up where he left off last season. I'll admit I was skeptical on the pick last year but the kid gets open and makes plays. Kenny Stills got his first shot of action but only was thrown to once for 5 yards. Better to not over work him coming off injury in the preseason but good to see him out there. I have sympathy for Rishard Mathews though. He'swilfred tv show times on fx by Tannehill enough to show he's gaining his trust and he's showing he's a play maker. On 3rd and 6 he got open on a quick pass and lowered his shoulder for a very close first down call. I hope when the receivers are fully healthy they can keep him in the mix. I have a feeling he'd be a #3 on any other team but too much was available in the offseason and Miami went and got it.
The Tight Ends: Not a whole lot to speak of from the tight ends this game. I don't know if they were part of the game plan the coaches wanted film on or not but they were almost non existent

. The only one that stood out to me was Jordan Cameron and not in a good way! His ONE reception went for no gain and Tannehill's beautiful deep ball over the shoulder, some would say was tipped but I didn't see, was dropped. Miami let Charles Clay go because they thought they were getting a big body, red zone threat. Well that and price. He's got to find a way to get that extra even one yard push and he's got to come away with those close(tipped) balls.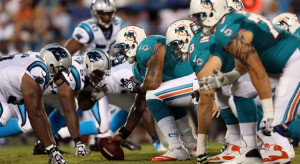 The O-Line: On pass plays they held their own. Most run plays I saw some good push. However the left side showed just how much Miami needs Branden Albert back, FAST! Tannehill might have only been hit once, but one time with a forced fumble was enough for me. Combine that with the holding penalties and it's enough to make fans concerned. I liked what I saw out of them, but over the course of the game will they hold up all 4 quarters?
The Defense: Nothing says a top tier defense like not allowing a first down in the first quarter. The first unit didn't pick up a sack but did enough to put their unit on tilt. Pressure caused early drops by Stewart, a miscue on a couple passes from Newton, and a Jamar Taylor INT that if the field was a foot wider would have been a TD- instead out of bounds at the 3. Splitting practice with the Panthers all week showed Miami's ability to push people around. Knowing their size and strength caused a lot of early false starts. Carolina got in the redzone in the second and 3 straight attempts from inside the 2 was stuffed. Cam Newton rolled out on 4th down, had no one open and took off for the endzone, only to be picked up by the defense and stopped. Turnover on downs. Great defensive stand so early in the season. Very reminiscent of last seasons early bend but don't break defense.
Kicking: Caleb Sturgis saw the Dolphins only field goal which he put through from 49 out. Andrew Franks handled the kicking duties for the first team which scored on each of their drives. He also converted both PAT attempts. This could be telling of things to come. Many Miami fans had hope for Sturgis but grew frustrated with his lack of consistency. Franks might not be better but if Miami is going to spend freely, Sturgis might be a casualty if they can find a cheaper option that will do the same job

. Even if it is only a few thousand dollars. No one wants to pay more for what they can get for less.
Coaching: Miami again went for it on fourth down, testing in game situations while the have the chance of the game not mattering. Perfect time to do so. Besides that, nothing builds confidence like making the big plays with such a young, raw, team. I like the fortitude here, but don't expect to see it often in the regular season. Clearly, Philbin and his staff will have to start cracking down in practice and building discipline in regards to penalties. Giving away yards is a close second to giving away the ball when it comes to momentum. In a chance to tie the game late they opted to go for 2 and a win

rather than a tie. Probably again to test in game situations otherwise I hope this isn't a trend. If there's that little faith in their kickers, maybe come roster cuts, Kicker should be first on their list.
Season Outlook: Miami lead the league getting into the redzone last year but were only 11th in points per game. In order to correct these issues, Miami needs to make the tough plays. They don't lack in playmakers but they lacked in playmakers when it counted. First in scoring in the 3rd quarter is nice, but I'll be more impressed when it comes in the 4th. Winning field position is going to be the key to keeping their defense, which struggled and was injured the last quarter of the season, fresh. They switched up their practice schedule to try and balance

out work load, but their schedule the last two thirds of the season is tough. Injuries are going to happen and they'll need to win field position.