By: Joe Branham, Published June 12, 2015 10:54 PM EST
When the name 'Kenny Britt' is coming out of someone's mouth, a word that can usually be found spilling out nearby is "disappointing".
That is, overall, a fair assessment of Britt's NFL career to this point. I'm here to tell you that this is all about to change. Kenny Britt's name could soon be associated with words such as "breakout" and "stud".
Britt was the 30th overall pick by the Tennessee Titans in the 2009 NFL Draft. St. Louis Rams head coach Jeff Fisher was the Titans coach at the time.
Britt had a strong sophomore season, but ultimately couldn't keep up his success.
But why? Well let's go all the way back. Before the Titans claimed Britt, before the NFL Combine. Let's go back to Rutgers and see what Kenny Britt did at the collegiate level. Maybe there we can find some clues as to what his career could look like soon.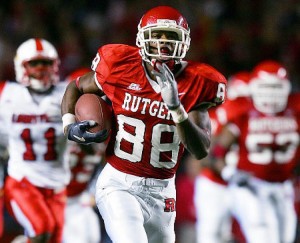 2006 was Kenny Britt's Freshman season at Rutgers. Britt was not a huge part of the offense at this time in his career posting 29 receptions for 440 yards and catching two touchdown passes.
2007 saw Britt become an important part of the Rutgers offense as he was able to post 62 receptions for 1232 yards and eight touchdowns. Britt also saw his yards per catch average climb from 15.2 to 29.9 from the previous season.
Britt was able to increase on his numbers again in 2008 as he hauled in 87 catches for 1371 yards and was on the receiving end of seven touchdown passes. Britt wasn't only a weapon in the air as he also posted 75 rushing yards on 7 carries and a touchdown. a 10.7 yards per carry average isn't bad for a wide receiver.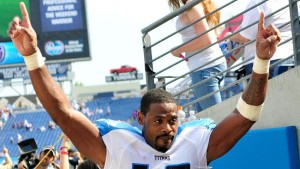 Britt comes into his seventh year in the NFL without a 1,000 yard receiving season with his largest yard total to end a season coming from the 2010 season where he ended with 775 yards.
Britt will be looking to improve on his 3198 career receiving yard total. Britt has caught 22 touchdown passes in his career and was only able to add three in 2014, his first year in St. Louis.
Britt, 26, comes into the 2015 NFL season with perhaps the best quarterback that he has ever played with in Nick Foles. Britt's previous NFL quarterback include Vince Young, Kerry Collins, Matt Hasselbeck, Ryan Fitzpatrick, and Jake Locker. Claiming the title of "best QB Britt has played with" is not a hard bar to clear, and Nick Foles takes it with ease.
Britt has yet to play with a quarterback in the NFL who isn't best suited as a back up. Even in 2014 with the St. Louis Rams, Britt began to get a connection with then starting quarterback Sam Bradford while in the off-season camp sessions. Britt was never able to see what it was like to have Bradford in the pocket in a meaningful game as Bradford was lost to a torn ACL in the Rams third preseason game in Cleveland.
Nick Foles comes in as a player who has made the Pro Bowl, and has turned heads with his astonishing 27 touchdown passes to two interception season in 2013. Foles will undoubtedly give Britt his best opportunity to thrive in the NFL.
Kenny Britt is a player who can distance himself from the best defenders in the league and has shown that ability multiple times against players who are well noted like Patrick Peterson and Richard Sherman.
Britt's locker room presence and side line presence make him the ideal candidate for a breakout player in 2015. Could this be the first time we see Kenny Britt pass 1,000 yards receiving? Could this be the first time we see a "Britt" jersey in the Pro Bowl? Only time will tell, but if you ask any fan of the St. Louis Rams, it feels good to have this player on the roster.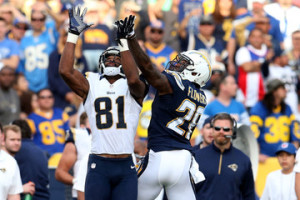 Good luck, Kenny Britt. We're all pulling for you!
Follow Joe Branham on Twitter (@jtbranham)