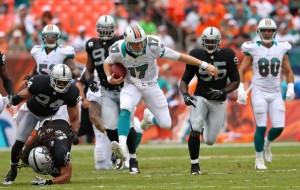 Across the pond in England's famous Wembley stadium,The Miami Dolphins and The
Oakland Raiders kicked off the first of 3 games scheduled to be played in England.
The other 2 should make for a better game then this one-sided debacle. The Miami
Dolphins,beyond a week of potential talk of possibly benching Ryan Tannehill,came
out and dominated.
After Allowing Oakland to take the opening drive 74 yards for a score,it was all
Miami. Ryan Tannehill looked like the 8th overall pick he was meant to be. Throwing
for 278 yards on 23-31 passing with 2 touchdowns was the young signal caller. He was
credited with an interception but can not be blamed. The pass hit tight end Dion Sims
on his hands before ending up in the hands of a Oakland db. All the talk the prior
week of benching Tannehill lit a fire and Oakland was so to say "torched" (no pun
intended)
In week 2 when Knowshon Moreno went down,the general concencious was Miami's offense was
done for. After a rough week 3 running the ball,Week 4 was a gigantic turn around. Miami
rushed for 157 yards,35 by Tannehill. Lamar Miller found the end zone twice while Daniel
Thomas picked up nice chunks of yardage via the passing game. With Knowshon rumored to
return after Miamis bye week the run game seems to be in great shape.
Miami's defense came to life,mainly their secondary. Everyone knows the Dolphins d-line
is the strength of their team,but if the defensive backs show up week in week out like they did Sunday watch out.The team recorded 4 take aways,3 by way of interception and one on a fumble return for a TD. Raiders back up Matt Mcgloin had a bad snap go over his head and had to watch Dolphins db Cortland Finnegan pick it up and go 50 yard into the end zone.
A lot of people don't wanna give Miami any credit for this win mainly because they played Oakland. But as a collective team effort this win was very satisfying. Tannehill didn't crack under the pressure,more like rose to the occasion. The defense put together there best showing of the season and the game plan prepared by the coaches was on point.
Miami is on a bye in week 5 and it couldn't come at a better time. After there bye they face Aaron Rodgers and the Packers. So an extra week which allows them to get healthy. Safety Rashard Jones comes back from suspension,Mike Pouncy could come back from hip surgery
and Knowshon,a long shot still,could possible return from a dislocated elbow.