Has anyone taken a gander at the stats section of NBA.com in the past couple of days?
That old man coming off an Achilles surgery and knee surgery at 36 years of age is leading the NBA in scoring …
… and the worldwide leader in sports had him ranked at No. 40 all time?
Someone's taking this very personally.
That's what Kobe Bryant does. It's who he is. He's a winner "out there playing chess while everyone else is playing checkers."
Bryant is a fading era in professional sports – someone who wants to win as badly as they want to draw their next breath. Not many people these days – in professional sports or otherwise – want to put the hard work in that it takes to get to the top.
the client list watch online series
But does it mean a whole lot when your team is 3-9 and dead last in the Pacific Conference, a half game ahead of the worst team – Oklahoma City – who are only 3-10 because their two star starters are sidelined with injuries?
LeBron James is No. 2 in the league right now, but his Cavs got off to a shaky start and have lost games to teams that they should have throttled while winning games against teams they had no chance to on paper. It's damned impressive to go into Chicago and beat the Bulls in what's undoubtedly a sneak preview of the Eastern Conference Finals, but to lose to the Knicks, Blazers, Jazz and Nuggets?
(And you already know the history between LeBron and the Spurs … and, yeah, it happened again last night).
Carmelo Anthony is averaging 23.9 ppg, but the Knicks are also 3-10 in Derek Fisher's first year, on a team where 'Melo should be the star, but instead it's Phil Jackson and "when will he return to be the coach?" Phil Jackson couldn't win any more games than Fish with this roster.
Anthony Davis – the sentimental favorite to unseat Kevin Durant as Most Valuable Player – is third in scoring, and his New Orleans are dead last in the Southwest, but it's only because the Memphis Grizzlies, Dallas Mavericks, Houston Rockets and the Spurs have the bar raised so high you'd have to fly to the Eastern Conference to have a chance of making the playoffs.
But it's Golden State's Stephen Curry who is proving to be the complete package at 24.8 ppg and has his team atop the Pacific Division an eighth of the way through the season.
The reason is that Curry has a stable roster of able teammates to complement his style of play. With talent like Klay Thompson, Harrison Barnes, David Lee and Andre Iguodala in-house, it's hard to go wrong. It doesn't hurt that Curry also plays the other side of the ball and leads the league in steals per game, facilitating more shot opportunities.
Anthony and Bryant would kill to have that kind of supporting cast. It might even put one of them in the league's assists per game Top Five, which is occupied by Rajon Rondo, Chris Paul, John Wall, Ty Lawson and Reggie Jackson to no surprise.
Durant has often won the annual League Scoring Champion award because Scott Brooks' offensive schemes are so reliant on him. But Durant has championship-level help in the form of Russell Westbrook, Serge Ibaka and Jackson.
'Melo is starting alongside Quincy Acy for crying out loud. Bryant's strongest teammates may be Jordan Hill and, dare I say, Jeremy Lin. In those situations, you feel the need to do it all.
Not to prove ESPN or anyone else wrong. But for personal and professional pride.
No one likes to lose. Charles Barkley once said, "I hate losing more than I like winning."
Bryant says, "Everything negative – pressure, challenges – is all an opportunity for me to rise."
Unfortunately, as has been proven time and again – by both Bryant and former Lakers head coach Mike D'Antoni – scoring alone doesn't win championships. And certainly not one-on-five.
No one athlete – not LeBron James, not Giancarlo Stanton, not Kevin Durant, and not even Kobe Bryant – can get to the top alone. Can't even win a game alone.
It takes teamwork to succeed.
"Talent wins games, but teamwork and intelligence wins championships."
– Michael Jordan, a man who might know a few things about the subject
Everyone doing their part to get to the next level, their talents a complement to someone else's opportunities. Learning and growing in unity. And if people are too lazy or feel too entitled to get on the same page as leaders like Bryant, then they need to simply go away.
Winners win and defer the credit; losers procrastinate, whine and blame.
Things turn out best for the people that make the best of the way things turn out.
And for Kobe Bryant, his passion, pride and perseverance is the best slam dunk he could ever smash in the face of that person who tagged him with that No. 40 ranking.
Because right now, Kobe Bryant's No. 1 … even if the Lakers aren't.
And that's what it takes to make the slow climb (back) to the top.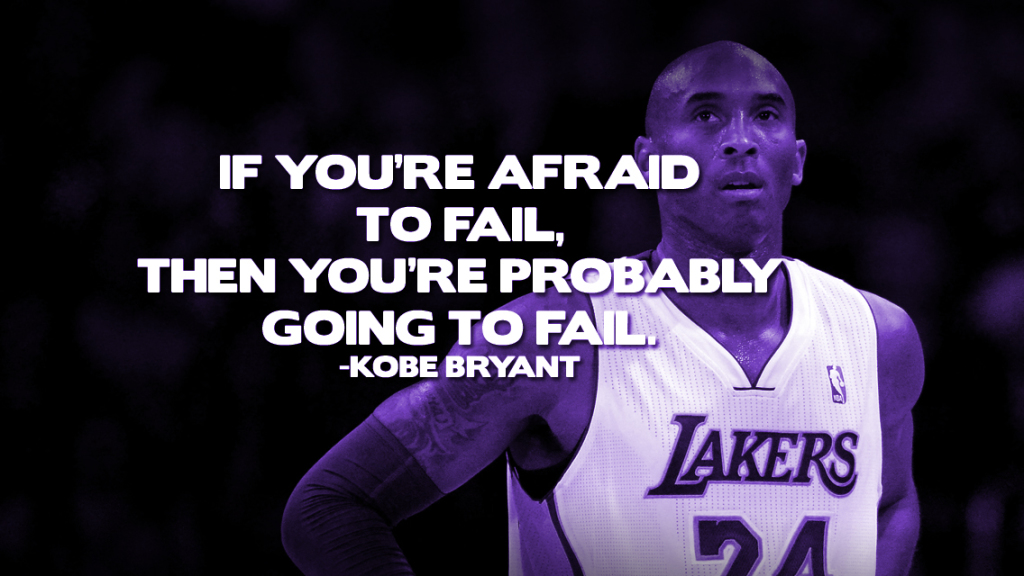 We Are Hiring, Write For Truluvsports.com (Click Here)