The Miami Dolphins first home game in their newly renovated stadium perfectly reflected what the Dolphins looked like on the field Saturday night. There's a lot of bright and shiny colors but still a little bit of work to do. At face value the offense statistically was sound. You had to squint real hard to find the good of the offense, but by the numbers it looked a lot better than on tape. Even though they out gained their opponents on yards, yards per rush and pass the Dolphins were still 2/12 (16%) on third down, gained less than 100 yards on 26 carries and struggled to connect on the big plays. A win is a win however and here's how it went down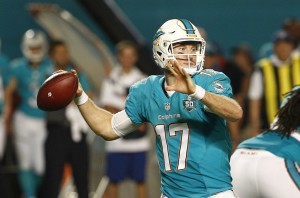 The QBs: Before I even get into Tannehill's stats, can I just ask: Is there anyone who's looked worse than Matt Moore this preseason? I know people will still throw out "He's one of the best back ups in football!", but this year I haven't seen it. Unfortunately for you Dolphins fans, there's not much out there to replace him for which I pray for the health and safety of Ryan Tannehill. The game is completely different and runs at a much better tempo when he's in the game. With that being said, Tannehill for the most part looked sharp. In his 6 drives he went 15/19 (78.9%) for 145 yards and a touchdown. Now reading that it looks great on paper, however I find myself wondering if the offense will struggle to find the sticks and move the ball forward on those third and long situations. Tannehill needs to find not only the open man, but the open man with room to move if he's going to keep the drive moving. Hitting an open reciever is great, hoping the defender that is right by him misses the tackle and your receiver can get the first down, is a very stressful situation. Another thing that will need to develop as the year goes on, timing. In each of the preseason games he's played I've seen the quarterbacks over throw Kenny Stills on a deep route. Clearly due to injuries, guys like Devante Parker and Kenny Stills will get over thrown until the offense can provide protection and quarterbacks can figure out the speed and timing to them. The deep ball has been a knock for Tannehill, but I definitely see the possibility of it being more successful this season.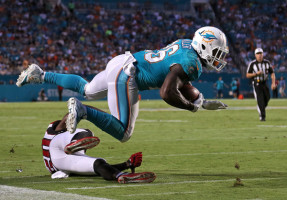 The RB: Remember my last post where I said "I might have to wait to midseason to say this."? Well Damien Williams came back down to earth this game. If the football field was a representation of the battle for playing time, Lamar Miller would be in the endzone while the rest would be on the 30-40 yard line. Miller rushed 6 times for 22 yards but was again explosive out of the backfield on pass plays going 5 for 31 yards. Granted those aren't huge numbers but he consistently made plays and found the chains for first downs. Jay Ajayi looked better this game with 7 carries for 25 yards, but failed to be the guy out of the backfield with 2 catches for only 4 yards. In a quick pace offense your running back needs to find a way to make plays in the open field. Williams was a depressing 6 for 19 yards, most of which he looked like he struggled to make a decision on what hole to hit. LaMichael James had another big night returning the ball, but clearly was not a focus of the offense. He's solidified his spot and it looks like the coaches wanted to give a shot to the bubble players. At times I wondered if it was bad blocking or just indecisiveness by the back up running backs.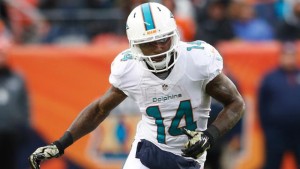 The WR: The clear cut difference between this receiving group and last years band of misfit toys, is chemistry and confidence they give their quarterback. Every play I've watched they're running clear routes and getting open quickly, there's less drops and they're getting extra yards in the open field. If given at least a little bit of room. they're netting a lot of yards after catch and keeping the offense looking explosive. Jarvis Landry proving he won't be a victim of the "sophomore slump"! Early in the game he took a pass 46 yards that would've probably went for a touchdown. Had he not cut back to pick up an extra blocker who got in his way he was going the distance. 5 for 84 yards he's still #17's favorite target. Rishard Mathews again has solidified his spot. 2 for 4 isn't statically impressive, but going to him on 3rd down and in the redzone shows he might be another favorite target of Tannehill should he get more playing time. On the downside of this receiving group, I wouldn't want to be the guy who decides who to cut. Guys buried in the depth chart like LaRon Byrd are still making catches of 17 or more yards in the preseason. Someone has to be cut, and with the lack of depth in the NFL they probably won't trickle down to our practice squad.
The TE: This is a position of concern for me. Miami's starters aren't making plays the way you'd expect in this offense. Jordan Cameron had one catch for 6 yards and Dion Sims was a non factor. To add insult to injury, Sims was the guy downfield who struggled to get out of the way for Landry who cut back looking for a lead block. You're not there to watch the play you have to finish blocking down field. That's a possible 6 if he makes the block. The back ups did a lot better. Tim Semisch had a nice 13 yard reception and Jake Stoneburner had 2 catches for 25 yards. A shame with the depth at WR that guys like them who are making plays in the preseason probably won't make the final 53.
The Defense: Where the offense struggled the defense more than made up for it. Pressure all night from both the first and second string. One thing I will say to opposing teams, if you want to establish the run, do it late in games when hopefully this unit is tired because early on it probably won't happen. Tackles for losses came in bunches. Six total sacks and almost too many "X and long" situations to count. It seemed like every time I looked up the opposing offense needed 15+ yards for a first down. Earl Mitchell clearly was the beneficiary of the double team on Wake or Suh. 3 tackles, two of which for a loss and a sack. Again this game the first unit wouldn't allow opposition into the endzone. Sure the big plays were still there but as long as Miami's offense can produce, opposition putting up 3 to Miami's 6 should be fine for most fans.
The Coaching: Flashbacks of last season were going through my head this game. At times I scratched my head with the play calling and lack of big plays throughout the game. Maybe it is just preseason and maybe they're trying to target players specifically for cut week, but certain plays seemed to stall out the offense and kill all momentum. Preseason is a tough call to decide whether or not coaching will be the teams demise but they better get it down quick or Miami will be facing another overhaul come the end of this season. They have all the tools to succeed, if they don't the weight falls solely on their coaches decision making. With that being said it's not a Superbowl or bust situation for Philbin, but I have to believe the ultimatum is make the playoffs or start packing.
A win on the home field is always a positive note no matter what time of the year it is. Drawing in fan interest and excitement is a must early on. Miami has more buzz surrounding them this season than any of the past few years. While I see the tremendous upside in the team, I often wonder if they can be the "score at will" type of team that changes games late in the season. Teams like New England and Dallas and Indianapolis are on the schedule. If they can't go tit-for-tat with teams that can put up points in bunches, it'll be another long season for Dolphins fans. Big, exciting, fast paced plays might get you to the playoffs but imposing your will to score on any give play will win Superbowls. Miami may have found chemistry, now they need to find their passion.