2. Tre Mason, RB #27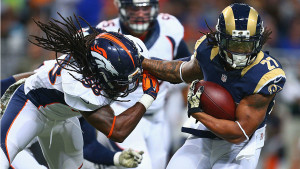 Tre Mason was drafted in the third round of the 2014 NFL Draft. At which point my eyes got wide and I looked over to my friend and stated, "No way! That guy is amazing." True story.
Tre Mason took over getting the bulk of the carries from Zac Stacy in 2014. With those carries, he did some pretty cool things. He helped the Rams solidify the ground game which was especially important due to the lack of talent at the QB position. Tre Mason carries the rock for 765 yards in 2014. On 179 carries, which averages out to 4.3 yards per carry (YPC). That is pretty solid for a guy who not only didn't see the field for a few weeks to begin the season, but wasn't even dressed until week five.
Tre Mason is expected to be the starting running back come September. Give this young man a full season running the ball and we should be able to see a 1,000+ yard rusher. Mason will also have the pleasure of playing with new QB Nick Foles. In Philadelphia, Foles was part of an offense that utilized running backs in both the run and pass game. Mason should see his receiving numbers increase as well. Mason had just 148 yards receiving in 2014, but I expect that number to climb with Nick Foles at QB as well as more starts.
Follow Joe Branham on Twitter (@jtbranham)