1. Kenny Britt WR #18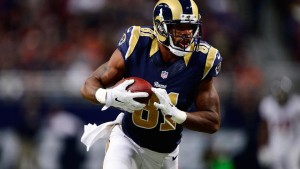 For starters, the "18" is not a typo. With Austin Pettis leaving the St. Louis Rams to become a Charger, the number 18 has been vacated. You might remember that 18 was Britt's number when he played for the Tennessee Titans. It was announced shortly after Britt re-signed with the Rams that he would be switching his number.
Anyways, now that I've cleared that up. Kenny Britt was an easy choice for me to list as my top candidate to have a break out season in 2015 while wearing the horns. Britt had only three touchdowns in 2014, but keep in mind that all receiving stats were managed with back up QBs all season. Now with Nick Foles coming to town, I believe that this is Britt's time to shine! All signs are pointing to the fact that Kenny Britt will be the top target in St. Louis followed by Brian Quick. Britt was drafted to the Tennessee Titans in the first round of the 2009 NFL Draft. Nick Foles will be, by far, the best QB that Kenny Britt has ever played with. Vince Young, Kerry Collins, Matt Hasselbeck, Jake Locker, and Ryan Fitzpatrick are clearly on a lower playing field than Nick Foles. Which is great news for Kenny Britt. Who will have his second season in St. Louis in 2015.
Britt possesses all of the talent of a top 10 receiver. He now has the coach, QB, and supporting cast to be able to push over the edge into being an elite target. Britt's goal is to make it to the Pro Bowl with the horns on his head, so after he becomes the first Rams receiver to surpass 1,000 yards receiving in a single season since Torry Holt, don't forget to vote the 26 year old receiver to the party.
Follow Joe Branham on Twitter (@jtbranham)