By: Joe Branham, Published June 10, 2015 11:21 PM EST
With the 2015 NFL Draft and Free Agency well behind us, it is finally time for the roster of the St. Louis Rams to put on their helmets and shoulder pads for the first time in too long.
Have Rams General Manager, Les Snead and Head Coach, Jeff Fisher done enough to this roster to finally break over the 8-8 hump that has been ever so elusive in St. Louis? Well I can sit at my computer and speculate until my fingers bleed, but in order for that question to be answered, we will just have to wait until some games are played. There are a few things that we can take a look at, but I'll let you be the judge whether it's enough to push the Rams to a winning record or not.
Rams receivers ready to emerge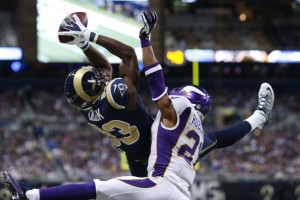 It's no secret that a weakness in St. Louis has been the offensive attack, specifically the passing game. When you really take a look at why the Rams passing attack has been so weak, it's easy to see that things could be changing in a big way in 2015. The Rams no longer have the conservative Brian Schottenheimer calling the plays, that will be the first big change. Frank Cignetti, who previously served as the teams quarterback coach, has taken the title of offensive coordinator and fans aren't the only ones who are excited about it. Sam Bradford, while talented, rarely was able to stay on the field long enough to have an impact for these young wide receivers. Tavon Austin and Stedman Bailey have only played seven NFL games with an actual starting quarterback. These two have had the unfortunate task of having back up quarterbacks Kellen Clemens, Shaun Hill, and Austin Davis throwing the rock. That is sure to take down any players overall numbers. Kenny Britt has been riddled with below average quarterbacks his entire career. Brian Quick and Chris Givens got a small taste of what having a starting quarterback is like, but ultimately have suffered because of the lack of consistency at the position. Enter Nick Foles, the same player who in 2013 threw 27 touchdowns and just two interceptions.
Foles is easily the best quarterback that Kenny Britt will have played with and the remainder of the Rams receivers will be seeing a guy who not only has that "potential" label on him, but also has statistics and a Pro Bowl appearance to back up the fact that this guy can play some ball.
Nick Foles is a quarterback that can consistently throw the deep ball. Chris Givens suffered statistically in 2014 without a quarterback who could throw the ball deep. Tavon Austin and Chris given figure to be the biggest beneficiaries of Foles' arm. Don't forget about Britt and Quick who are in position to have their best statistical seasons in their NFL careers.
And I know we'd all like to see Stedman Bailey catch a football while doing a back flip in a game.
Running back by committee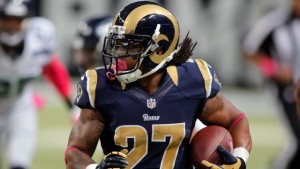 This will likely not come as any surprise to anyone who has been paying attention to the Rams off-season. The Rams are likely to run a rotation heavy run game with the surplus of talent at the position. Todd Gurley and Tre Mason will likely see the majority of the carries, with Benny Cunningham serving as a spell back in more of a situational role.
The issue of having too many players at one position has been welcome competition by Cunningham and Mason, but not so much for Zac Stacy who almost immediately requested a trade after the Rams selected Todd Gurley in the first round of the 2015 NFL Draft. The competition for playing time should make this position extremely fun to watch for Rams fans. Competition usually brings out the best in players, that is of course if one does not run from the competition.
Quicker start from the defense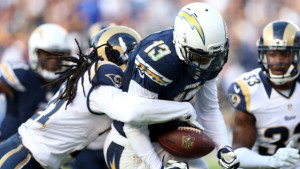 The St. Louis Rams defense didn't hit it's stride immediately last season. In fact, the first quarter of the season was underwhelming on that side of the ball. After some experience in the Gregg Williams defense, the Rams really got things rolling on the defense and were able to have some extremely strong games. The Rams defense had it's headline grabbing game against the Denver Broncos and the high powered Peyton Manning run offense. Holding Peyton Manning to just seven points was an accomplishment in itself. The Rams also had back to back shutouts against the Oakland Raiders and Washington Redskins. Inconsistent play plagued this unit in 2014. In 2015, with a second full off-season with Gregg Williams, and a full season with experience, it would not exactly be a bold prediction to say that this group will start faster than last year. All 11 starters are returning from a season ago and 96% of the defensive roster from last year remains intact.
The Rams defense is headlined by it's stand out line which boasts five first round picks in Robert Quinn, Michael Brockers, Aaron Donald, Nick Fairley, and Chris Long. This defensive line partnered up with Gregg Williams' blitz heavy scheme could spell doom for opposing quarterbacks. The NFL record for sacks in a single season is 72 tallied by the 1986 Chicago Bears. It's not secret that the Rams have their eye on that record. In order to tie that mark, the Rams would need to average just 4.5 sacks per game. If you've watch any Rams games in recent years, you'll see that that is not an absurd average for this team. Especially when players like Robert Quinn have made their career out of having games with multiple sacks.
Trickery on teams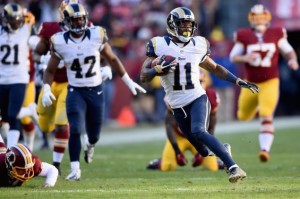 The St. Louis Rams might have the most exciting special teams unit to watch in the NFL. Special teams coach John Fassel has shown us all that he has plenty up his sleeve when it comes to throwing the opponent off his scent. The Rams deploy a punt team that has converted 4th downs on multiple occasions. Rams punter Johnny Hekker played quarterback in high school. The Rams have also shown that Hekker doesn't have to have the ball in his hands to run a trick play. The Rams dazzled everyone and confused spectators, commentators, and camera men alike with a 90 yard punt return by Stedman Bailey after Tavon Austin pulled the Seahawks entire punt team to one side of the field to clear the way for Bailey.
One situation to watch will involve the changes to the extra point. The ball will now be snapped from the 15 yard line. Fassel is the kind of guy who could easily convince Fisher into letting him run a fake from that spot if the call was necessary. Defenses will likely not be going a full 100% on these kicks and Fassel could take advantage of lack of effort.
Youth
The St. Louis Rams are a young team. So young in fact that there are only three players on the entire 90-man roster that have had their 30th birthdays. Jo-Lonn Dunbar is the oldest Rams player at 30 years old. Followed by Chris Long and William Hayes who are also 30 years old.
What does that mean? It means that this Rams team could be together for years to come. A large portion of the Rams roster is still under their rookie contract.
This could become a very scary, or very exciting stat come September. The Rams youth means the Rams have energy. It also means the Rams have inexperience.
One thing is certain though, this team is packed with talent. With OTAs underway and preseason on the horizon, we'll finally get to see what players emerge from the pack and claim a roster spot.
Rams fans finally have some weight to their words when they tell all their friends that the Rams are on the rise. Hang in there, Rams fans. Kickoff will be upon us soon enough. Until then, stay locked onto Truluvsports.com for all the latest surrounding the St. Louis Rams.
Follow Joe Branham on Twitter (@jtbranham)