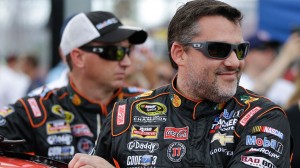 First I would like to say congratulations to AJ Allmendinger for earning his first NASCAR Sprint Cup victory at Watkins Glen International.
Now to get down to business as everyone has heard by now NASCAR racer Tony Stewart was involved in an on track accident at the Canandaigua Speedway Sprint Car race on Saturday August 9, 2014. I have watched the media outlets cover this story and listen to their comments, I have read peoples Facebook and Twitter posts about the incident and I have even watched the YouTube video that is going around and read comments on there. While reading the comments of many individuals and communicating with many of those via Facebook I must sit back and laugh, not because of what happened or who it involved but because all of a sudden people who are not involved in the accident in any way become judge and jury instead of letting the police do their investigation and wait until the information is released to the public. Many of these same people whose comments I have read have said Mr. Stewart should be charged with Murder and then they went on to say that they know absolutely nothing about racing as they don't watch it. I condone the decision by Mr. Tony Stewart not to race in Sunday's race at Watkins Glen International race which lead to people saying if Tony has nothing to hide then he should race. Let me put it to you this way Stuart-Hass racing out of respect for Kevin Ward JR and his family chose not to participate in the Watkins Glen race and I think that was the right choice as none of us truly know what Tony is going through right now and how it has affected him personally, professionally, and emotionally. So I say to the Media and any other person who is attacking this issue and making it out to be something it wasn't all people involved are Human Beings show some Respect, Dignity, and Compassion for all involved.
So to Stewart-Hass Racing and Kevin Ward JR as a sports fan and a sports writer do not listen to all the negativity and let the investigation prove the fact and let well enough alone for all people involved.