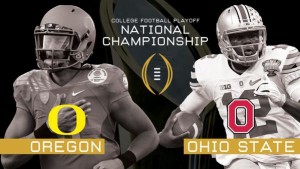 College Football always provides so much drama and excitement every year and this year was no exception. Out with the BCS standings to decide our National Championship game, and in with the CFB playoff ranking system. The old system would have easily put #1 Alabama and #3 Florida State in the National Championship game but instead it will feature #2 Oregon an #4 Ohio State proving the football playoff is major benefit to College Football.
Marcus Mariota and his Oregon Ducks took on Jameis Winston and the Florida State Seminoles in the Rose bowl in what started as a very ugly game for both teams before turning into complete domination by the Ducks. After a slow start Marcus Mariota showed exactly why he is the Heisman trophy winner and probably the best player in the country. He pushed his team on and led them to victory finishing with 338 yds 2 TD and 1 INT as well as 8 rushes 62 yds and a TD. The Ducks defense played their best game all year controlling and forcing Winston to look like a freshman QB and not a former Heisman winner. The Ducks arose victorious and burst into the National Championship game.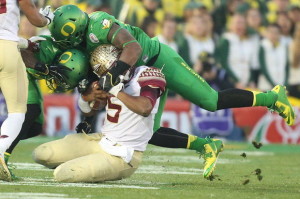 In the Sugar Bowl- Nick Saban's Alabama Crimson Tide and Urban Meyer's Ohio State Buckeyes played a very well fought game that saw major runs and questionable coaching decisions. Using a third string quarterback the Buckeyes came surging back after a 21-6 deficit halfway through the second quarter to stun the Tide 42-35. Cardale Jones went 18-35 for 243 yds 1 TD and 1 INT and running back Ezekiel Elliot carried the ball 20 times for 230 yds and 2 TDs. The defense stepped up enough and got the job done slowing Amari Cooper down and forcing turnovers. The Crimson Tide nearly amounted a comeback but fell short and the Buckeyes move on to the Championship game.
January 12th when the Ducks and the Buckeyes face off it will a total battle between arguably the best coach in College Football- Urban Meyer and the high octane team in the Nation in the Oregon Ducks. The Ducks who averaged 20.2 seconds per play against Florida State, will do everything to wear out the Buckeyes defense who are extremely worn out after battling the Tide late Sunday night. The Buckeyes will rely on their star running back and the incredible storyline Cardale Jones to get the Duck defense on its heels and make mistakes. Jones and Mariota are both very athletic and have great ability to throw on the run or take off on designed runs or broken plays while Mariota has a definite advantage with his arm.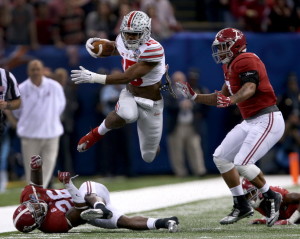 The game will be a great one and will draw a huge audience on a National stage and will be the best game of the year. After a highly competitive game and a battle between game plans and great coaching minds I believe the Oregon Ducks will pull out a win and bring National Title home to the PAC 12 conference. 48-35