Per the Associated Press, Judge Richard Berman has overturned Tom Brady's 4 game suspension as part of his ruling on Deflategate. The NFL will respond quickly. More to come.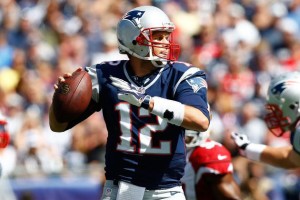 Berman stated in his decision "Based upon the forgoing and applicable legal authorities, the Court hereby denies the Management Council's motion to confirm the Award and grants the Player's Association motion to vacate the Award, thereby vacating the four-game suspension of Tom Brady, effective immediately."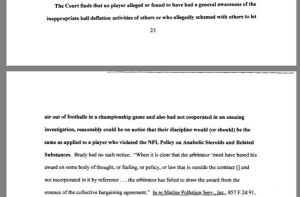 Berman also took issue with Goodell comparing Deflategate with steroid use:

Here is a link to Berman's full decision: here
The NFLPA is set to release a statement regarding the decision Berman has handed down. The NFL has not released any indication of whether or not they are going to appeal the decision any further. While it it very possible the NFL could cut their losses and accept defeat here, it is more probable than not that the league will try to save face by appealing Berman's decision.
The NFLPA's statement: "For Immediate Release
September 3, 2015
NFLPA STATEMENT ON VICTORY IN BRADY CASE
The rights of Tom Brady and of all NFL players under the collective bargaining agreement were affirmed today by a Federal Judge in a court of the NFL's choosing. We thank Judge Berman for his time, careful consideration of the issue and fair and just result.
This decision should prove, once and for all, that our Collective Bargaining Agreement does not grant this Commissioner the authority to be unfair, arbitrary and misleading. While the CBA grants the person who occupies the position of Commissioner the ability to judiciously and fairly exercise the designated power of that position, the union did not agree to attempts to unfairly, illegally exercise that power, contrary to what the NFL has repeatedly and wrongfully claimed.
We are happy for the victory of the rule of law for our players and our fans. This court's decision to overturn the NFL Commissioner again should signal to every NFL owner that collective bargaining is better than legal losses. Collective bargaining is a much better process that will lead to far better results.
— DeMaurice Smith
NFLPA Executive Director"
Per a league source, the NFL will "definitely appeal" Berman's decision. This appeal will likely not be handled until after the 2015 NFL season is finished. The leagues official statement is as follows:
"We are grateful to Judge Berman for hearing this matter, but respectfully disagree with today'€™s decision. We will appeal today'€™s ruling in order to uphold the collectively bargained responsibility to protect the integrity of the game. The commissioner'€™s responsibility to secure the competitive fairness of our game is a paramount principle, and the league and our 32 clubs will continue to pursue a path to that end. While the legal phase of this process continues, we look forward to focusing on football and the opening of the regular season."