The time has come for me to talk about the best running backs in the NFL entering the 2015 season.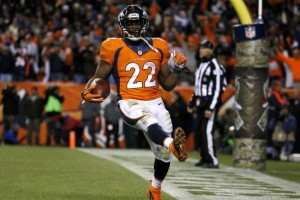 10.) C.J. Anderson- Going into his 3rd season in the NFL Denver Broncos RB C.J. Anderson should be poised to have a good season in this new RB friendly offense thanks to newly acquired Offensive coordinator Gary Kubiak's zone-blocking scheme. He didn't win the RB spot last season for the team but with a strong late rally in the last 8 games he has proven he can help this offense. He will have some competition behind him in Montee Ball and Ronnie Hillman but after their fumbles last season I doubt they get too many minutes unless Anderson has an injury.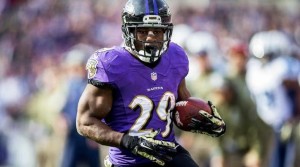 9.) Justin Forsett- The Baltimore Ravens are lucky to have Forsett since they lost RB Ray Rice due to his aggravated assault charge towards his wife. Forsett is not the best RB in the league but he is a solid back that has quickness and great vision down the field when he is running or waiting for his Offensive Line to create a hole for him. The downfall is he is almost 30 years old and has never had 1,000 yards in rushing ever in his 6 year career. He will have a solid season since he is more experienced than rookie RB Javorius Allen and RB Lorenzo Taliaferro, but don't be surprised if his production is cut down a bit by one of his backups.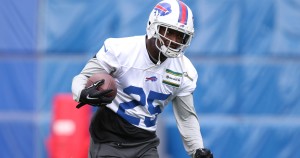 8.) LeSean McCoy-The Buffalo Bills have a talented RB but he will have to prove it behind a questionable offensive line. McCoy tends to do too much dancing when he is running but Slim Shady is still arguably the fastest back in this league. He is faced with a lingering hamstring injury early in the season and is coming off a sub par year of production for the Eagles. The Bills fear he may miss the 1st week of the season due to his hamstring but he will still be a top back in the league this season once he gets on the field.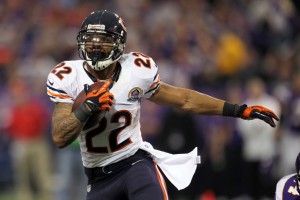 7.) Matt Forte- The Chicago Bears have a ton of problems on the offensive side of the ball as long as starting QB Jay Cutler is leading the pack. One for sure bright spot in this offense will always be RB Matt Forte thanks to his speed and quickness once he gets the ball in his hands. With new head coach John Fox and his run-oriented offense we could see Forte have a big season. He is turning 30 this season and has fought through a few injuries in the past but if he stays healthy he could see some big numbers in an offense that needs to take the ball out of Cutler's hands.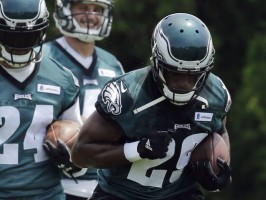 6.) DeMarco Murray- The Philadelphia Eagles stole away arguably the best RB last season in the NFL from a division rival. With a healthy QB Sam Bradford and a fast paced offense Murray should eat up a ton of yards again this season. His O-Line is not as good as the one the Dallas Cowboys have but they are no pushover. The only thing that can hurt Murray this season is that has 2 talented RB's behind him in Darren Sproles and Ryan Mathews that can eat up some playing time and yardage. The other factor that can hinder any RB in the league and has hurt Murray will be his history of getting injured.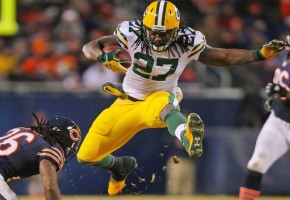 5.) Eddie Lacy- The Green Bay Packers have a talented back that is poised for a breakout year in a stacked offense. QB Aaron Rodgers will take a ton of pressure off Lacy but the Green Bay Packers O-Line is a little banged up early in the season so that could hurt him a bit. Lacy is a big body RB that proved he can bang his way into a pile but he also has nice hands to be able to catch the ball. His schedule hurt him last season playing a lot of good run defenses but he was ranked 6th in catches of all the RBs in the league. Look for him to have a nice season running and catching the ball for the Packers.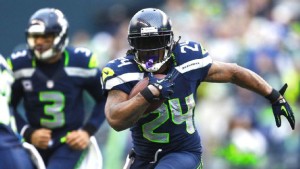 4.) Marshawn Lynch- Beast Mode is the only nickname this RB needs with the portfolio he has put together in his career. He has been one of the most unstoppable backs in the NFL and in an offense coached by Pete Carroll and loaded with QB Russell Wilson and newly acquired TE Jimmy Graham. Lynch should see a lot of easy carries with the defense so worried about the QB and TE position but that duo could also hinder his touchdown numbers and the amount of yards he racks up. (Honorable Mentions: Arian Foster, Jeremy Hill and Lamar Miller)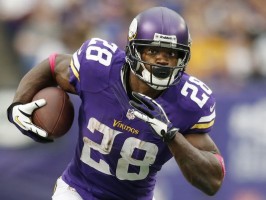 3.) Adrian Peterson- The Minnesota Vikings have to be happy they have their star RB back on the field after his Child Abuse fiasco last season kept him out all year. With a young QB in Teddy Bridgewater and a skilled WR in Mike Wallace this offense should be fun to watch. Adrian "All Day" Peterson was arguably the best RB in the league averaging 1,000 yards almost every season but with a season of not playing in the NFL you have to wonder what kind of shape Peterson is in. He will be fed the ball a lot so he could still see a ton of yards and a lot of red-zone carries.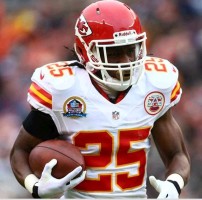 2.) Jamaal Charles- The Kansas City Chiefs are lucky to have such a talented RB on offense to help a team that rarely gets Touchdowns out of their WRs. He was hindered in carries last season due to the Chiefs adding RB Knile Davis in the rushing attack and RB De'Anthony Thomas in the receiving. Charles will get a ton of goal line carries and has the skills to break out of tackles while running downfield. He is playing a weak run defensive schedule so he should still be able to lock down plenty of yards but lets hope he is able to still get his touchdowns with 3 RBs lurking in the distance.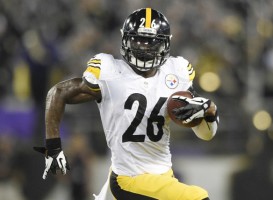 1.) Le'veon Bell- The Pittsburgh Steelers will have to endure another season with its talented RB Le'veon Bell out due to a 2 game suspension but he still racked up a ton of yards and touchdowns last year. Bell looked fantastic after he dropped 20 pounds last season since he was able to combined his sharp agility and bull-like running that it was almost impossible to stop him. He will be missed in the first 2 games but once he gets on the field with his QB Ben Roethlisberger and WR Antonio Brown duo taking all the heat from the defense, Bell will have a chance to rack up a ton of yards and touchdowns.