The Baltimore Ravens have had an up and down pre season, as expected from pretty much everyone considering every team is experiencing the same thing. Going from 90 players down to 53 is quite the challenge. You have great position battles and guys you don't want to lose even if they don't make one of 53. What is the current state of the Ravens? I will go through it all right now.
It is a no brainer that Joe Flacco is the QB, we won't say anymore about him. The back up spot is what I am concerned about most. They have Matt Schaub who was a Pro Bowler just a few years ago, and now a back up- talk about irony. Bryn Renner is the other guy, and he has made a name for himself in his preseason debut vs the Saints with a final game drive

to victory. He reminds me of Tyrod Taylor but with a better arm. Schaub had a decent game that day too, note both guys threw an interception however Renner seemed to rebound a lot better. I doubt they will have three QBs when the final roster is cut, we have only seen that a few times in the teams 19 years of life.
Rookie first round pick WR Breshad Perriman fell on his knee during practice a few weeks back and has yet to make a return. They say he will be back "soon" but no time frame has been given. Should we worry? Yes and No. Breshad received an MRI which came back fine, still has a minor sprain and swelling. My guess is that they want to let him fully recover, the man has value for this team he was their first round pick after all. Marlon Brown has also had back issues, so this makes the WR battle interesting because Kamar Aiken has appeared to grab the #2 spot behind Veteran Steve Smith Sr (whom announced his retirement after this year). Who else do they have? They have Michael Campanero who has nursed minor injuries on and off since last year. He is looking to be the return guy, but shows promise and a connection with Joe Flacco. Rookie Darren Waller is a big bodied target with a red

zone threat style of play. Jeremy Butler is also a guy who has shined on and off. Other then that Deandre Carter is a notable guy, but has seemingly lost credit by dropping a kick return last week against the Eagles. I think we will see Smith Sr, Aiken and Perrimen as the main guys and Brown, Waller and Campanero should also make the roster.
Dennis Pitta is on the PUP, if he returns it won't be until mid season. Maybe he will retire, Joe Flacco has said "Unfortunately I have gotten used to life without Dennis" It is a sad story but we must look forward to the tight end battle!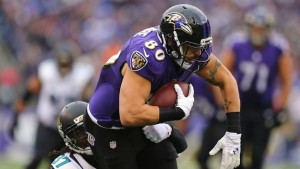 Crockett Gilmore is the #1 TE. Rookies Maxx Williams and Nick Boyle are also definite players to make the team and I suspect all 3 of these guys will be used because they all have strong value to this team. Williams made a great catch against the Saints and Boyle formerly used in blocking situations has shown he can catch too, becoming Schaubs' target against the Saints.
Justin Forsett is the obvious RB, Lorenzo Taliferro and Buck Allen should both be used during the year. Lorenzo is a big guy, short yardage RB and Allen has shown excellent hands and decent vision, so all 3 should blend well

into Marc Tresmans style offense as Matt Forte did prior. Fitzgerald Toussaint and Terrance McGee played well last week against the Eagles, I doubt the team will have 5 RBs on the roster but the practice squad will have some space, they may want to keep one of these guys.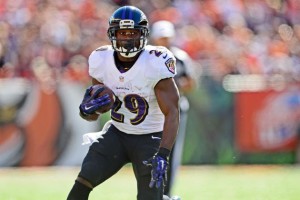 The Ravens were down to their 4th string tackle against the Eagles, starter Rick Wagner was out but did practice Monday after. As long as the Offensive line can stay healthy the team will prosper

, as they did last season keeping Flacco upright and safe.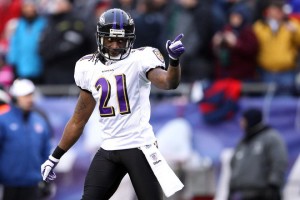 The cornerbacks have shown good and bad things thus far. Ladarius Webb has not looked so well

. He has missed preseason games and practices due to health concerns and you begin to ponder what value he has, he did take less money for the team this past off season but he hasn't played a full season since around 2010, when he was a top CB. Now we focus on Jimmy Smith as our lock down corner and he is proving this again. Let's hope this group stays healthy because it is the ultimate reason why they failed to beat the Patriots in the play off game last year. Kyle Arrington was brought in to be used in the slot and has done well so far knocking balls out of hands and making tackles. If Webb can't stay healthy, I assume Rashaan Melvin will be the # 2 guy. He is improving but will definitely be a target teams will throw to and take advantage of as Tom Brady

did in that game. Asa Jackson and Rookie Trey Walker will probably make the team, however Jackson is losing value as he is showing weak on kick returns which is basically what they wanted him for. Walker has done alright but in my opinion- good enough to be on the team and he will improve as many rookies do. Cassius Vaughn, made his name stand out against the Eagles, almost picking off a pass, and he did make some key tackles. The Ravens made their defensive focus purseit and tackle going into Philadelphia and he showed that well. I would like to see him on the roster if he continues to perform well.
The front 7 has been a lock down unit, Arhur Brown is at the point of make it or break it. For a while, Zach Orr was above him on the depth chart, now he has appeared to jump him, he made some good moves against the Eagles, getting a sack and some decent coverage across the field. Speed is his strength and speedy he was! We all are aware of the controversial hit Suggs made on Sam Bradford, he was flagged for roughing the passer on a read option play, meaning the quarterback has the choice to roll out and throw, or hand off. He went to hand off last second and Suggs nailed him. Some say it was a cheap shot because the hit was low, Sam has suffered two major knee replacements in two years, but in all honesty, come on…cheap..really? Suggs is a sack master, that is why he is a Raven, he preys on his victims, and is told to do his job

. The hit was not intentional, and Suggs even said "If you don't want to have your injury prone qb get hurt, don't run the read option" I think it is clear that he was only intending to do his job and get a sack, at full speed it is hard to "hold back" people need to be real here. The NFL did side with the Ravens and mentioned the flag should NOT have been thrown and that the tackle was fair. People will think what they want, that is the beauty of opinions.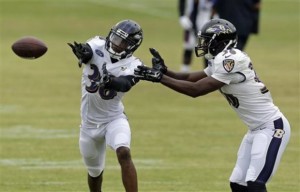 Nick Perry. Say Who? haha. He is a DB, who is a rookie and not well known…yet. He has made some nice picks off of the qbs in practices, and could make the team considering the injury of Matt Elam. The hopes were high for Elam to have a breakout year, former first rounder never lived up to expectations in his first year and seemingly got worse his second year. He looked great until he got hurt. Now the Safeties seem to be thinned out, they could bring someone else in. The starters are going to be Will Hill and Kendrick Lewis, the guys behind them are Levine and Trawick. Not much depth or talent there backing up the starters and this can become an issue if they don't do something here.
The 2015 Baltimore Ravens will be fun to watch and I will go ahead and say it….probably heart wrenching as always every year. They tend to make us nervous during games and happy afterwords, so let's tip out hat and hope for a good year! The critics are giving them credit

which is weird but if you look at the success of this team in the past 8 years I suppose credit is finally do. Underdogs we will not be as much as we used to be. Hurry up 2015 regular season!