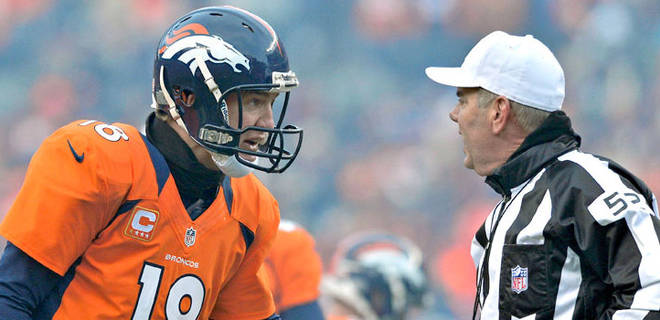 NFL referee Bill Vinovich may have something against Denver Broncos quarterback Peyton Manning. After last Monday night's 38-27 loss to the Cincinnati Bengals, Manning is 0-6 when Vinovich is the head ref, four of those losses since he joined the Broncos in 2012.
With the way the defense played, and with Manning throwing four interceptions and not being clutch, the Broncos would have more then likely lost anyways, but for Manning, who wins a lot of games, to be winless against one referee has me curious to say the least.
Here are all the Broncos games that Vinovich has refereed since Peyton Manning came to Denver. All of the games were shocking losses that were very close and controversial, and many of them with bad penalty calls.
Broncos 35, Ravens 38 (2OT) - January 12, 2012 AFC Divisional Playoff Game
Broncos 20, Chargers 27 - December 12, 2013 Week 15
Broncos 20, Seahawks 26 (OT) - September 21, 2014 Week 3
Broncos 28, Bengals 37 - December 22, 2014 Week 16
So whether you're a Broncos fan, Colts fan, Manning fan or none of the above, do you think this is a weird coincidence or just a referee who makes sure Manning's team loses?