The Philadelphia Phillies decided it's time to fully hit the reset button on what was once the class of the National League.
Maybe I am still stuck in 2007-2010, you would be too if you had to endure

the pain we as Phillies have throughout their existence. The ride may be over but man what a ride it was for those magical seasons. There were players that have come and gone during that time that played roles in the teams success but throughout them all only a few will truly stand out.
We saw this coming but to be honest it was and still is a hard pill to swallow. In the age of big money

free agent

signings and blockbuster trades

we witness a team go from diapers to three-piece suits. If you wanted to build a winner

all you had to do was look at the Phillies for those 3 years. Cole Hamels (drafted in 2002), Ryan Howard (drafted in 2001), Chase Utley (drafted in 2000) and there is no way we can forget the great Jimmy Rollins (drafted in 1996). This is how teams are supposed to be built- through great scouting not big pockets.
What these players represented was hope. There was not greatness written over them when they were drafted but they stayed the course, worked hard and became champions. Like I said earlier there were other players that played a role in the Phillies success like Roy Holliday, Cliff Lee, Carlos Riuz, Jamie Moyer, Ryan Madson and so many more but the heart

and soul of that team were the four players that had their diapers changed in the City of Brotherly

Love.
The Phillies lost Jimmie Rollins in the offseason which was a blow to the fanbase but we knew it would begin sooner or later but it still hurt to see our leader leave. As the season began the whispers got louder as trade

talk began to circle around Howard, Utley and Hamels. Despite their poor start to the season the Phillies looked as if they would hold on to everyone. As the trade

deadline approached the whispers got louder that Hamels was on his was out- but to where and what would the Phils get in return for their ace.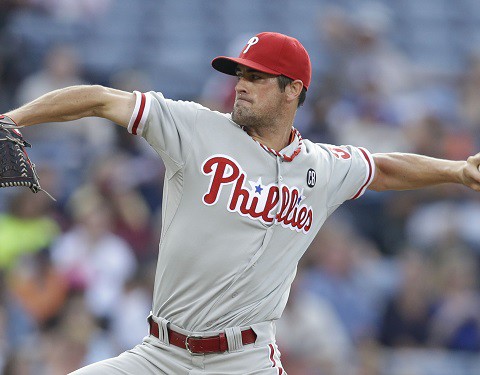 Then the magic happened.
Hamels struggled as the trade

rumors got louder but the Chicago

Cubs became his contender audition and he passed with flying colors as he threw a no-hitter in his last game as a Phil. What a way to go out. Hamels walked

away from Philadelphia with 114 wins

, 1844 strikeouts and an ERA of 3.30. Not exactly Hall of Fame numbers but to us he was simply the Ace. Thanks or everything Colbert Michael Hamels…
Utley could play with power as his career

233 home

runs

suggest or he could it for average as his career

.282 BA stands out. He was a baseball player in every sense of the word. When he took over full-time as the starter so did the Phillies chances to be competitive in the NL. Five straight appearances in the All-Star game from 2006-10 is nothing to laugh at and three appearances in the top 10 voting

for MVP just cements his legacy as not only a Phillie but one of the best

2nd baseman in the game.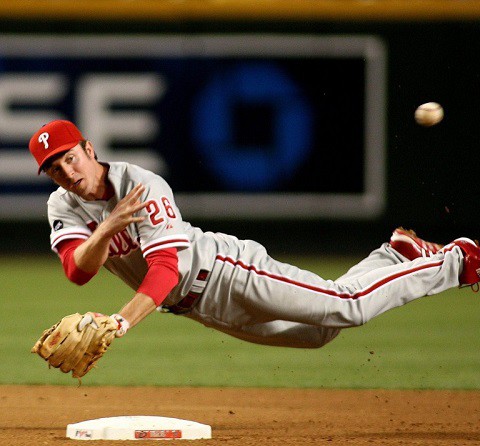 It's no secret that injuries took a toll on him as he was a hard-nosed player that  left everything on the field. It's hard to get a blue-collar city like Philadelphia  behind you but Utley did just that. Unlike Hamels there have been whispers  about a trade for the last few season as his health became a major concern but  Amaro Jr just couldn't pull the trigger

. Now he is being shipped to the Los  Angeles Dodgers to play with his good friend Rollins again in hopes to add  another ring

to his collection.
Howard was the basher, the man that took over as the face of the franchise

in  2006. Howard in my opinion was the most feared hitter in baseball from 2006-  09 as he hit an astounding 198 home

runs

and drove in 572 runs. There was no  one better. He did strike out plenty- averaging 172 throughout his career

but  that  is normal for any power hitter. It's highly unlikely he will represent the Phils  in  another All Star game but he did manage to make three while being robbed of  at least two more. As MVP's goes Howard won one and finished in the top 10-  five other  times.
As we look back on the careers

of these three players while in Philly only one  thing should stand out- winners

. Yes the franchise

has seen some dark times  but imagine how darker they would be without the services of Hamels, Howard or Utley. Neither player never shied away from the spotlight. As much love as they received from the fans they always showed the love right back. I like most fans were hard on them as it was getting clear that they were getting older and their prime had passed them by but I would always remember that father time could not be escaped.
When the city forgot how important baseball was they brought us a championship, gave us another chance the following

season and continued

to fight as the roster and landscape

around them changed. Those Phillies are no more and it's a hard pill to swallow but they have been here before and rose from the ground to become winners. We might not ever see a core

like Rollins, Howard, Hamels and Utley again but we will forever be in their debt for what they did bring to the city and the sport of baseball as a whole.
Thank

you guys for the memories.