College football is back and not a moment too soon. Week 1 is starting off with a bang and with one of the absolute most hyped games in the first week of the season in which we have seen in a long time. The University of Utah Utes play host to the Michigan Wolverines, a game, that has the whole nation eager to watch. Not for the teams by far but for Jim Harbaugh's return to college football after a stint in the NFL. After a Super Bowl appearance and turning the San Francisco 49'ers into a powerhouse Harbaugh looks to attempt to bring glory back to Ann Arbor.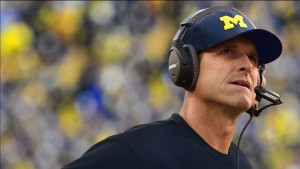 Big Blue has been mediocre at its best the past few seasons and the hiring of Jim Harbaugh brings hope and promise to restore order to thr historical Michigan brand. Fans and enthusiasts will be eager to give Michigan the benefit of the doubt to win every time they step on the field because of "Mr Khakis".
Now back to the game. Harbaughs first task will be taking his Wolverines to self proclaimed "Sack Lake City" to Rice Eccles Stadium for the first time in the history of these two programs as well as the first time ever Michigan plays on a Thursday night. With all the firsts in this matchup this is not the first meeting ever, in 2014 the Utah Utes traveled to Ann Arbor and after a weather delayed  and hard fought battle in which the Utes came out victorious 26-10.
These teams have a taste for each other and are no stranger to the opponents they match up against as Michigan returns 17 starters and Utah 18 starters respectively. Both lost big time talent to the NFL Draft, as star receiver Devin Funchess and others were selected, and Utah lost defensive studs Eric Rowe, Nate Orchard, and Brian Blechen as well as offensive lineman Jeremiah Poutasi.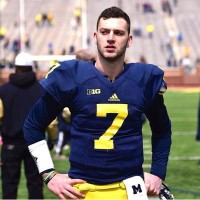 It is yet to be seen if Michigan has replaced the talent they lost but with Utah the defense looks as dominant as ever. Many believe this defense can be even better than the 2014 campaign in which they led the Nation with sacks (55) and even without their leader Nate Orchard (18.5) sacks its hard to believe but with history of the Utes defensively not out of the question. If the defense can be anything like it was last year than it will be disastrous for Michigan. Projected starting quarter back Shane Morris got a taste of the Utes last year after coming in to replace starter Devin Gardner in the 2014 game. After throwing a pick and getting knocked around he was quickly benched in favor of Gardner to finish the game. Although Shane Morris wasn't coached by Jim Harbaugh who made Collin Kapernick a star so anything is possible.
Players to Watch: Michigan
Offensive Line and Running back Deveon Smith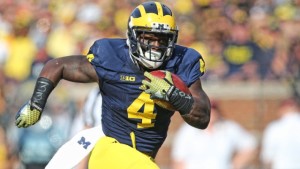 The offensive line has its work cut out for it as Utah presents an absolute dominant front 7 and keeping their quarterback upright will be a challenge much less trying to make holes and get to the second level on their blocking in the running game. If they can keep Morris up he might have a chance to test the Utes young secondary but that's a big wild card if he can even have enough time to go through his reads. Deveon Smith has a huge responsibility with the offensive line as when Morris drops back he better be able to pick up the pass rush and pick up blitzs'. Hunter Dimmick and Jared Norris are sure to be relentless in their pursuit to create havoc in the back field.
Utah:
Devontae Booker and Travis Wilson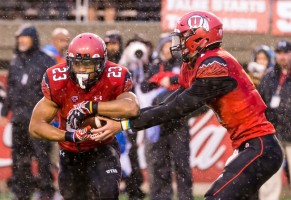 Devontae Booker is coming off a monstrous season with 1512 rushing yards and 10 rushing TD's 306 receiving yards and 2 receiving TD's and is looking to pick up where he left off and hopes to be the Utes first Heisman Candidate since Alex Smith. Booker is a nightmare for opponents to match up against, he can and will run through, around, and over you and has shown great ability to catch out of the backfield on designed routes or check downs, he opens up the offense and keeps defenses on their heels.
By far the biggest question mark is Travis Wilson starting quarterback for the Utes.  Wilson a dual threat quarter back who in the past has shown good accuracy and the ability to scramble when the play breaks down. If Coach Kyle Whittingham can show trust in Wilson and open up the offense to allow him to take shots down field than maybe the Utes can take another step towards elite status. If the coaching staff doesn't and reverts back to last season where they were quick to pull the trigger on a QB change than Travis Wilson will simply be a game manager and defenses can set up to stop the run and prevent the Utes from a possible special season.
Keys to Winning: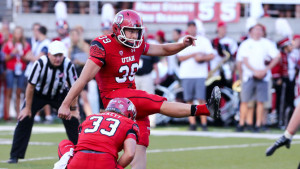 Utah: The defense and special teams will do what they always do by getting takeaways, stopping drives, and getting the offense good field position. They key to winning will be getting quality quarterback play to move the football and put points on the board, They can not rely so heavily on Devontae Booker to carry the offense or for the defense to score. If the game comes down to kicking Utah is at a huge advantage with star punter Tom Hackett and star Olympic kicker Andy Philips who is "Mr. Automatic"
Michigan: STOP THE QUARTERBACK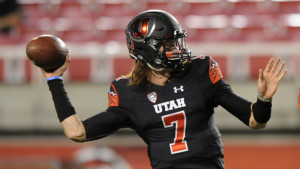 If the Wolverine defense can force mistakes and turnovers to Travis Wilson or Kendall Thompson (if Wilson is benched), than they will have a fighting chance to pull off what is an upset over the Utes. If they can make Utah one dimensional and rely solely on Booker while sustaining drives on offense than they can wear out the defense and capitalize on scoring opportunities.
Whitingham v. Harbaugh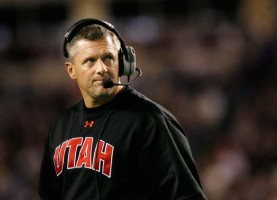 Kyle Whittingham is entering his second decade at the University of Utah who he has taken the Utes from the Mountain West Conference to a force in the PAC 12. Known for his top notch defenses, mental toughness, and play creativity Coach Whitt is not considered elite but a very good coach at that.
On the other hand Jim Harbaugh is an elite level coach. He has success everywhere he goes. He was brought to Ann Arbore because of his toughness, discipline and for what he has done everywhere he has coached. He gets the most out of his quarterbacks and turns teams into winners.
On any given day the coaching advantage would go to Jim Harbaugh but not in this case. It will take some time to get this train on the right track and I do believe Michigan will qualify for a bowl game one of their wins to get them there will not be against Utah. Utah has too much talent and depth that has been in place while Coach Harbaugh is starting a rebuild. While still talented they just arent quite enough to seal the deal in Salt Lake City.
Prediction
Utah 27 Michigan 14